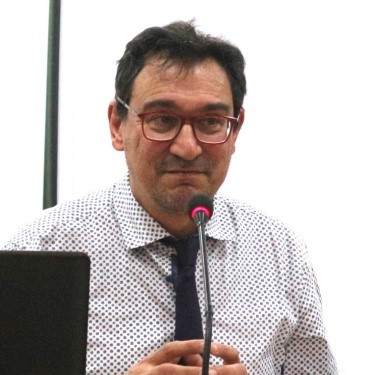 Le professeur Ricard Zapata Barrero est enseignant à l'Université de Pompeu Fabra à Barcelone en Espagne. Il consacre ses recherches aux problématiques contemporaines des démocraties libérales dans des contextes de diversité ainsi qu'aux relations entre la démocratie, la citoyenneté, la mobilité humaine et l'immigration. Le professeur Zapata Barrero est directeur du groupe de travail GRITIM-UPF, groupe de travail interdisciplinaire sur l'immigration et du Master en Etudes des Migrations. Il est également membre du conseil d'administration du plus grand réseau de recherche sur l'immigration (IMISCOE). Il dirige deux groupes en lien avec ses recherches sur les villes leurs gouvernances, la diversité et les politiques culturelles. Il dirige un groupe de recherche sur l'analyse conceptuelle et qualitative des études en Migration. Il est membre de plusieurs projets européen de recherche, en outre celui intitulé « Diasporalink (…) ». Le professeur Zapata Barrero est également membre de comités de rédaction de plusieurs journaux et de plusieurs conseils consultatifs gouvernementaux.
Sélection de publications récentes :
• (Chapter) « Transnationalism and interculturalism: overlapping affinities », in Diversity and Constestations over Nationalism in Europe and Canada, edited by John Erik Fossum, Riva Kastoryano and Birte Siim, Palgrave, Chp.4.
• (Art.) « Interculturalism in the Post-Multicultural debate: A Defense. » Comparative Migration Studies 5 (September): 14, doi: 10.1186/s40878-017-0057-z. Key article of a Special Issue on Multiculturalism and Interculturalism, Guest Editors: Patrick Loobuyck and François Levrau.
• (Special issue) (2017) Diversity incorporation in the cultural policy mainstream: Exploring the main frameworks and approaches bridging cultural and migration studies, Special Issue in Crossings: Journal of Migration & Culture, (co-edited with Wiebke Sievers and Marco Martiniello), 8 (1)
I have also an article: « How does interculturalism facilitate diversity incorporation into the cultural policy mainstream? Montreal's case study », Special Issue of Crossings: Journal of Migration & Culture, 8, (1), pp. 31-48.
• (Art.) (2017). "The Intercultural Turn in Europe: Process of Policy Paradigm Change and Formation", in F. Mansouri (ed.), The Promise and Challenge of Intercultural Dialogue: From Theory to Policy and Practice, Paris: Unesco Publishers; Chapter 4, pp. 169-193.
• (Special issue) (2017) Immigrant Incorporation in Political Parties: Exploring the Diversity Gap, Ricard-Zapata-Barrero, Iris Dähnke and Lea Markard (eds.) in Ethnic and Racial Studies, Vol. 40, Issue 5.April 2017
– "Introduction: Background, framework and focus the special issue" (with L. Markand and I. Dähnke) DOI:10.1080/01419870.2016.1259493
– "How do political parties deal with the 'diversity gap': democratic deficits and party strategies" DOI:10.1080/01419870.2016.1259486 [this is the overview of literature and theoretical framework of the Special Issue)
– « From participation to confinement: Challenges for immigrants' incorporation in political parties in Spain» (with Flora Burchianti) DOI:10.1080/01419870.2016.1259488
• (Art.) (2017) « Monitoring discriminatory political discourse: A pilot study in Catalonia », Discourse and Society, (co-authored with Gemma Rubio-Carbonero), Vol 28, Issue 2; 1-22.
• (Special issue) (2017) Symposium on Theorizing 'the local turn' in the governance of immigrant policies: a multi-level approach. Guest Editors: Ricard Zapata-Barrero, Tiziana Caponio and Peter Scholten, International Review of Administrative Sciences (IRAS), Volume 83 Number 2 June 2017.
– Introduction: Theorizing the 'local turn' in a multi-level governance framework of analysis. A case study in immigrant policies (with Tiziana Caponio and Peter Scholten)
– "Multi-level intercultural governance in Barcelona: mainstreaming comprehensive approach", DOI: 10.1177/0020852315592962
• (Book) (2016) (eds.) Interculturalism and Multiculturalism: debating the dividing lines (with Nasar Meer and Tariq Modood). Edinburgh University Press (I have two contributions: Introduction with N. Meer and T. Modood: "A Plural Century: Situating Interculturalism and Multiculturalism" and Chapter 3: "Theorising Intercultural Citizenship"].
• (Art.) (2016) "Diversity and cultural policy: cultural citizenship as a tool for inclusion", International Journal of Cultural Policy Vol. 22 (4), pp. 534-552
• (Book) (2015) (ed.) Interculturalism in Cities: Concept, Policy and Implementation. Cheltenham: Edward-Elgar Publishing Book directly related to a joint-project financed by Fundación "La Caixa" and the Intercultural Cities programme of the Council of Europe.
– "Introduction: Framing the Intercultural Turn, viii-xv
– "Interculturalism: Main Hypothesis, Theories and Strands", 3-19 (Chapter 1)
– "Conclusions: Three building blocks for taking interculturalism seriously", 185-196
• (Art.) (2014). "The Limits to Shaping Diversity as Public Culture: Permanent Festivities in Barcelona", Cities, 37, 66-72.